NEWS
China's new energy bus leading brand
Foton and Baidu Join Hands in Developing Self-driving Vehicles
time: 2016-10-12
source: www.chinabuses.org
On October 10, Foton and the search engine giant Baidu signed a strategic agreement for cooperation in telematics, big data, intelligent vehicles and self-driving vehicles. At the signing ceremony, it is revealed that Foton self-driving vehicle is expected to hit the road at the end of this year.

In recent years, self-driving technology has often made the headlines. Most people had the impression that this technology is only applicable to small passenger vehicles. Compared with the self-driving technology, telematics is believed to bring more direct travel convenience for passengers and is set to transform the landscape of commercial vehicle industry.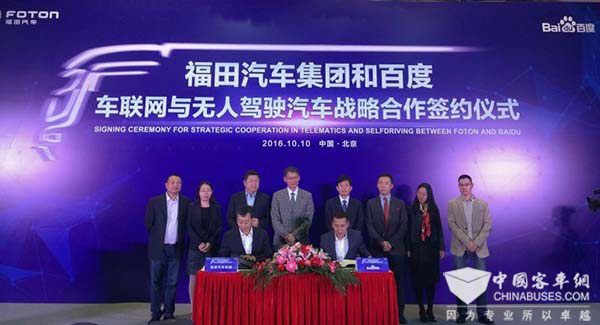 Signing ceremony between Foton and Baidu

According to statistics, buses and coaches are usually involved in most major traffic accidents in China. Drivers who drive vehicles while intoxicated, fatigued, smoking or on the phone, are chiefly responsible for these accidents. To avoid these problems, self-driving technology can come to help.

Richard Bishop, once an adviser at U.S. Department of Transportation, points out that self-driving technology not only greatly improves the safety standards in the passenger transportation, but it also saves a huge amount of costs for bus operators. Mr. Bishop believes that self-driving technology will soon be widely used in the transportation field.

Having seen the huge market market potential of the self-driving vehicles, Foton made concrete steps and plans for its transition several years ago. Currently, Foton Vehicle Industry 4.0 Initiative has been carried out in a smooth manner. The Initiative chiefly consists of telematics, big data and cloud platform, aiming to build a new customer-oriented business environment. By taking advantage of the big data technology to increase the intelligence of corporate management, the bus maker is providing tailor-made intelligent transportation solutions through intelligent factories and intelligent manufacturing.


Foton AUV BJ6180 BRT

Song Shushan, Vice President of Foton Group, tells Chinabuses.org that the cooperation between Foton and Baidu will bring enormous benefits for both parties. A big data cloud platform will be built and its front-mounted telematics, superior to the rear-mounted telematics, will monitor the operation of vehicles in real-time and provide detailed analysis of drivers' behaviors. This helps buses improve their fuel economy and avoid potential problems.

On January 11 this year, at Foton & Daimler 2016 Business Conference, "Internet+" Transformation and Upgrading themed with e-Bluesky was held. Foton AUV released its newly upgraded Intelligent Blue New Energy Solutions and revealed BJ6180 self-driving electric BRT concept bus. The move aroused great interest among the public, ushering a new era for self-driving commercial vehicles. Equipped with radar, lane control, laser locator, GPS, infrared camera, dimensional imaging, tire programmer, BJ6180 is truly a pioneer in green urban public transportation with unique features in "Internet+" and new energy fields.